Clifford's plastering is a fully qualified plasterer providing a professional plastering service in North County Dublin.
Clifford from Clifford plastering is available for plastering in the following areas in North Dublin including; Balbriggan, Malahide, Portmarnock, Swords, Rush, Skerries, Lusk, Naul and Oldtown.
With many year's experience in the plastering trade, Clifford's plastering Dublin are fully experienced in all area's of plastering and provide the following plastering services including; outdoor plastering, interior plastering, bathroom plastering, kitchen plastering, commercial plastering, new build plastering and renovation plastering.
Clifford's insulation provide a complete home plastering insulation service in Dublin, Balbriggan, Skerries, Swords, Malahide and surrounding towns.
As a fully insured insulation plastering business in Dublin, Clifford's Insulation provide reliable and affordable insulation services including attic insulation, ceiling insulation, wall sound proofing, fire proofing, moisture resistant boards, insulation plaster boarding and dry lining.
Specializing in interior plastering in Dublin for many years, Clifford's Interior plastering have the expertise and experience to provide a complete indoor plastering service in North County Dublin.
Clifford's indoor Plastering Dublin provide internal plastering services for your home including coving, cornices, ceiling repairs, insurance repairs, ceiling water damage repairs, stipple, ceiling centre pieces, fireplaces and stoves.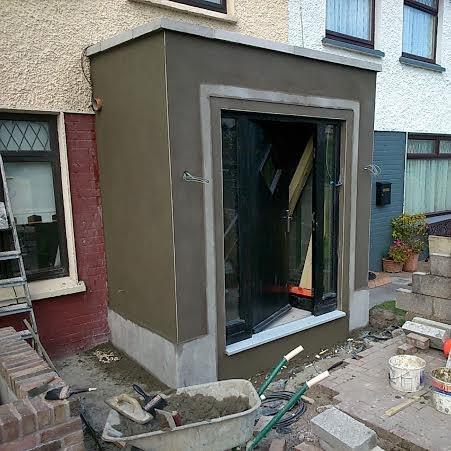 This Dublin based outdoor plastering Company provide external plastering in North County Dublin.
Clifford's outdoor plastering service provide a complete exterior plastering service in Dublin including; wet dash, dry dash, sand and cement, window reveals, garden wall, shed's, new houses, new buildings, porches, garden feature walls and window repair.
Clifford's Commercial plastering and maintenance are available for all types of small commercial plastering repair and maintenance in Dublin and North county Dublin.
The commercial plastering services from this North County Dublin commercial plasterer are available to the following businesses including factories, schools, shops, churches, warehouses and offices.
For more Information please call 086 878 72 37